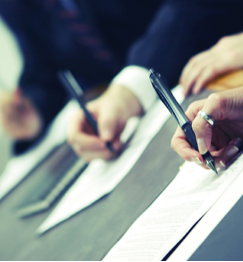 Why LSC?
There is no substitute for quality and, as a result of our intense focus and extensive experience, we are recognized as one of the most knowledgeable Worldox system integrators in North America. When a law firm's goal is to be more efficient and productive, we know the key ingredient to success is providing properly implemented, trained and supported software. Our longstanding knowledge of Worldox and precise attention to detail help us better understand what our clients' blind spots are so that we can help them smoothly navigate through their Worldox implementation or upgrade. In essence, we treat our clients as friends, which allows us to add a personal touch to an otherwise impersonal, abstract rollout process.
We also believe that clients should take ownership of their software investments. Working with our team ensures a highly focused execution and results in an implementation your firm will understand and own. We also believe that our clients need to be given the level of knowledge to be able to quickly and effectively troubleshoot problems, so we provide that knowledge. However, understanding that our clients are constantly busy and on-the-go, we recognize and provide tailored support that is concise, managed and essential to your long term success with the software.
Get Connected Today.
Contact us to schedule an appointment. Find out how LSC can increase efficiency, productivity and profitability in your firm.

---
---
Simply put, Legal Software Connection offers a depth of knowledge on Worldox products that is unmatched in the industry. We also hold ourselves accountable since we see ourselves as co-owners in our clients' success. Our vested interest in our clients' success makes us widely regarded as the go-to resource for any Worldox project.