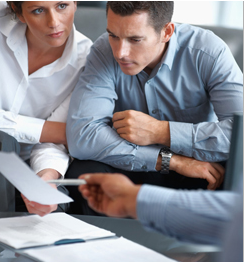 Training
Online & Onsite Training
Our staff has extensive experience with educating our clients on Worldox and our other complementary applications. Each training program is custom-developed based on an evaluation of what the law firm or corporate legal department needs in order to get the most out of the software.
Generally, our training approach for new users is comprised of a series of 90-minute orientation sessions coupled with floor support and one-on-one tutorials when the system goes "live." The sessions follow a seminar format where useful information is delivered in digestible amounts, and then applied directly to the employees' daily workload. With Worldox rollouts, a trainer will customize an appropriate orientation, help desk and floor support plan that is often delivered over the course of an entire "go live" week.
Get Connected Today.
Contact us to schedule an appointment. Find out how LSC can increase efficiency, productivity and profitability in your firm.

---
---
At the end of the first week, many firms recognize the value of our training and opt for additional 'advanced training' a few weeks later. The advanced session solidifies knowledge previously gained and ensures that the firm gets the most out of its software investment.
Most importantly, our goal is to provide thorough and expert installation and training services. We inspire confidence in the project. We support and manage all aspects of the project. We are directly involved in the technical, social and political process, and we care about the end result.